Post by Wayne Smith on Jan 5, 2021 20:29:40 GMT 10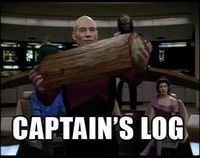 Just received an email from one of my mates over at the vBulletin driven australian atheists forums. The idiots running that dying forum into the ground are leaving me messages there. I don't get it. They ban me from a forum without any explanation and then continue posting comments to me as if I have the power to reply. Do they enjoy talking to themselves. Seems a bit sad to me. They couldn't debate me rationally before so now they hurl abuse and accusations at me for weeks after I leave in the full knowledge I can't even answer them.
Get a life guys. Move on. Your forum must have other things to talk about surely. They even copied a recent post I put up here but decided to remove afterwards as it might inflame them. Stuff addressed at all of you who have messaged me lately about their antics and wanting to know why I'm banned from their dopey little inactive forum. Most of you will have gotten messages at the facebook groups by now any way and this board is basically dead. I only post stuff here for the hundred or so visitors from AAF each day who want to remain anonymous in case AAF ban them too.
Why AAF staff frequent this board so much is another mystery. They must be really bored. Most of their forum messages are several months old and they rarely get new members. Apparently they've separated from the Atheist Foundation of Australia which doesn't surprise me. Why the Foundation took on those idiots in the first place I'll never know. Must have scammed their way in saying they were a professionally run board instead of the spiteful vindictively pathetic assclowns they actually are.
Read a few interesting posts sent to me. They think I'm a liar and everything I've said is from my imagination. I've often wondered if I'm autistic because I've always found lying repugnant and liars rather dumb. The truth is very easy to remember and lies pile up so telling the truth is the best way to go really. They even doubt my marriage to a Japanese lady. She's from Nagoya and her family is actually descended from Samurai. They still have the Katana and her uncle down the road has the Wazikashi. I've been to Japan 3 times and held the sword. Pre-Edo which means older than Tokyo. Me and her had it dated. She told me I could have it when swords came up in conversation years ago. She honestly had no idea what it would be worth and thought her father would give it to me. I just laughed knowing there was no way that would happen. He takes it out of the scabbard once a year to oil it.
Here's a funny story. Her mother was in a car accident with a Yakuza who wasn't impressed. They set up a meeting to determine payments. She turned up with a bigger Yakuza and didn't pay a Yen. I embarrassed one once myself. They drive around in vans playing nationalistic music for reasons I never quite figured out. I heard one coming downtown when I was alone and ran toward the sound. Went up on to a footbridge crossing the road and by sheer luck they pulled up to the traffic light directly below me. I was a young man then in my leather jacket and calmly drew a cigarette out of my pocket. The Yakuza driver and passenger saw me and laughed. I smiled back and captured the gaze of the driver. I didn't blink but held my smile in place and had a staring contest with him.
After a minute the light changed. Then other drivers began beeping their horns. Then the passenger hit him hard and he jumped around in his seat suddenly breaking out of the spell and drove off. I laughed for ages.
I've lived a very exciting life and done practically everything I ever wanted to try and a lot of things I never even imagined doing. I've worked as a bodyguard for celebrities, guarded millions of dollars for banks, travelled to strange places and met even stranger people but I don't make shit up. I don't need to. I know it comes across as bragging and that brings a smile to my face because it doesn't seem all that amazing to me.
I feel sorry for anyone who hasn't taken risks and lived a full life. What's the point in that?
I know you doubt I'm going to build a Statue Irreverent Mr Black. That's fine too. You strike me as a very negative person with a big chip on his shoulder because you were daft enough to believe all that crap the church sold you. Some people are just born gullible aren't they. Maybe if I hadn't read so many science books as a young kid I might have been stupid enough to fall for their BS too.
I haven't had time to do much on facebook lately but the new group already has over 30 members.
www.facebook.com/groups/AustralianAtheistsForums
I'll have to put some actually effort into that group soon. All I've done this week is approve membership requests.