Post by Wayne Smith on Jan 7, 2021 8:54:23 GMT 10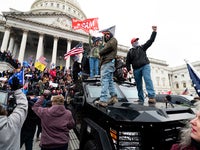 'A coup in progress': Chaotic scenes as Donald Trump supporters break into the Capitol building
Police have moved in to clear the US Capitol of hundreds of pro-Donald Trump protesters who stormed the building in a bid to force Congress to undo his election loss.
The invasion of the Capitol on Wednesday came as politicians convened to certify President-elect Joe Biden's victory.
Video uploaded to social media showed protesters breaking windows and police deploying teargas inside the building. Local media reported that one person had been shot and video showed a person being wheeled from the building on a stretcher.
Officials at the US Capitol declared a lockdown, and politicians said on Twitter that they were sheltering in place in their offices, as protesters - some of them holding Trump flags - were seen walking through the building.
Washington Mayor Muriel Bowser has ordered a citywide curfew, and the National Guard has been called in.
Some US politicians have described the scenes as a "coup".
"A mob storming the US Capitol to overturn an election. A coup in progress," said representative Val Demings in a tweet.
"This is anarchy. This is an attempted coup. And it's happening in America because of lawless lawmakers," added another congressman, Seth Moulton.
"The president is inciting domestic terrorism," said representative Mark Pocan.
After his supporters entered the building, Mr Trump posted a video to Twitter calling on them to "go home in peace", but also describing them as "very special", while repeating his baseless claims of election fraud.
"This was a fraudulent election, but we can't play into the hands of these people. We have to have peace. So go home, we love you, you're very special," he said.
"I know your pain, I know your hurt. We had an election that was stolen from us."
Mr Trump had earlier used a rally to warn "weak" Republicans not to certify Mr Biden's victory and put direct pressure on Vice President Mike Pence, who later confirmed he would not intervene.
In response to the situation, Mr Biden said for demonstrators to storm the Capitol, smash windows, occupy offices, invade the halls of Congress and threaten the safety of duly elected officials: "It's not a protest, it's insurrection."
He said it was an "unprecedented assault" on US democracy.
Mr Biden won more than seven million votes more than Mr Trump in the 3 November election and leads him 306-232 in the state-by-state Electoral College that determines elections.
Mr Trump has repeatedly alleged without evidence that there was vote-rigging but his team has not been able to prove a single case in court.